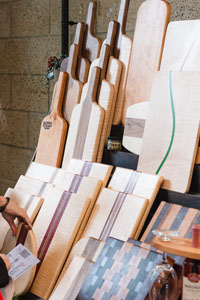 What We Offer
Policies For All Users
What We Offer

Meet the Woodworking Studio Artists

Expand your ability to explore form and function by learning how to make things out of wood! Our woodworking program focuses on small projects/kit work to maximize opportunities for beginning students to safely learn their way around the tools and equipment in a woodshop. Supportive and experienced instructors cover properties of wood, safe use of machinery and teach techniques on table saw, band saw, miter saw, drill press, drum/disc sanders, planer and jointer. Studio access is available for former or advanced students to work independently.
Hand-made Instruments
Enjoy a musical performance by Steve Denyes, Brendan Kremer and Shawn Rohlf demonstrating the sweet sounds of three instruments, all hand-made by Denyes.
Policies For All Users

The woodworking studio has tools and equipment that may cause personal bodily injury, especially if improperly used. The safety procedures must be completed.
Safety Procedures
Each member must:
Read Safety Manuals
Sign the Liability Waiver
Complete Studio Orientation
Once the above is satisfactory completed, a Craft Center member can purchase the studio pass for individual work or sign for the class. This transaction occurs at the front desk. A current Craft Center membership is required.
Accidents
Accidents include any personal harm, or any damage done to machines or tools. To avoid accidents:
Equipment must be at a complete stop to remove scraps.
Equipment must not be left running unattended. Anything that appears to be a potential hazard should be reported to Craft Center Staff immediately.
Damaged equipment should be reported.
Electrical Hazards: Keep out of any electrical control boxes.
Moving Parts: Always keep your hands and other extremities away from all moving parts.
Eye Protection
Imperative when working with or around any tools and machinery, even if you are not using the equipment.
Eye protection must always be worn when you are in the shop. This is the law; there are no exceptions!
Face Shields
Required when using lathe but advised for all machinery.
Ear Protection
Available and strongly advised.
Dust Masks
Disposable masks are available for purchase from Craft Center supply store or you can provide your own. Whenever working with wood, dust is produced and can be a hazard. Certain woods could contain harmful chemicals and can be attributed to asthma and nasal cancer. It is advisable to wear a particulate mask when creating high levels of saw dust and always keep work area clean. OSHA has information & resources on-¬‐line regarding general respiratory protection guidance; members are encouraged to be informed and to decide what protection is best for them.
Food, Drink & Substances
No Food, Drinks, tobacco, alcohol, or drugs, legal or otherwise.
Do not operate machinery under the influence of any drug or alcohol, of if fatigued.
Clothing and Hair
Long hair must be pulled back and secured.
No loose clothing. Long sleeves should be rolled up and shirt tails should be tucked in.
Must be wearing full length pants.
Shoes must be rubber soled and closed toed, No sandals, etc.
No jewelry can be worn, including watches and dangling earrings.
Backpacks and other belongings must be stowed away from work area.
Do not wear gloves when using power equipment.
Electronics
No headphones or cellular devices while operating equipment.
Emergency
Shut off equipment immediately upon an emergency.
A fire extinguisher is in the studio to the right wall from the entrance. It is for small localized fires. When the fire danger is significant, exit building and call 911.
A First Aid box is located ……… throughout the craft center.
Have craft center staff assist you with all injuries. Complete accident report with front desk staff when able.
Emergency Assistance: Dial ……… from on campus phones.
Check out
Any tool you have checked out must be returned to the Front desk personnel at the end of the day.
Clean up
Your work area must be clean before you leave.
Most machines are directly connected to a dust collection system. Make sure to open the blast gate before operation & close when through; there is a pole with hook in the studio that can be used to reach the blast gate.
Member is responsible to sweep up/clean any wood debris not removed by the dust collection system on or around the machine/work area.
Brooms, dust brush & pans are in the studio. Dispose of wood chips & debris into proper labeled bin. Please minimize amount of debris that goes into floor port, reserving that for final, fine wood particles.
Place newspaper or old catalogs beneath items to be glued. Wipe up any glue spills.
Failure to properly clean your workspace may void woodshop privileges.
Begin cleaning up before the Craft Center closes. Start cleaning up by or before 9:45 pm on weekdays and 4:45 pm on weekends to assure my clean- up will be fully finished by closing.
Storage
Due to minimal storage space in the woodshop, projects should be stored (short term only).
Wood stock should be labeled, dated, and properly stored in a reserved wood bin.
Wood bins expire at end of term and items should be removed, or bin renewed along with membership.
Stationary Tool Safety
Use machines only as intended. If in doubt, ask for assistance and/or refer to user manual.
You should be experienced and informed in operation and safety procedure. If you are not comfortable with a machine, do not use it; ask for assistance.
Focus on your work. Look, listen, and be in control of what you are doing. Do not be distracted by or talk to others while operating machinery and do not distract others.
Avoid accidental starting. Only the person using the machine should ever start it!
All Safety guards and devices must be in place when operating machines.
Do not overreach the equipment.
Machine must be at rest before removing byproducts and turned "off" before leaving.
Return adjustable parts to rest position. Machine should be clean and clear before, during, and after it is used.
Red knobs are not for adjustments. These are for calibrations that should only be done by trained staff.
Unplug tool before changing parts and making adjustments. Be sure bits and blades are secure before usage. Turn switch to "OFF" before plugging into socket.
All adjustable parts should be secure before power is on.
Do not use force. The tool should do the work. If it does not perform as you expect, let Instructor or Front Desk personnel know.
Always stay within reach of power switch.
Check for worn and damaged parts. Let trained staff correct these problems. Do not attempt it yourself.
Use clamps and vises to hold down wood or metal. Keep your hands free to control the hand tool.
Machinery should not be used to cut bucked limbs or stumps, used wood, wet wood, plaster, or drywall. Studio is for milled, dry wood, and furniture-¬grade wood.