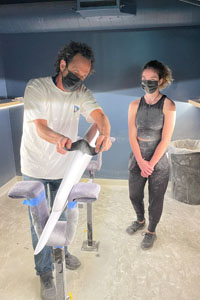 What We Offer
Policies For All Users
What We Offer

Meet the Surfboard Shaping Studio Artists

Learn the exciting craft of surfboard shaping! Under the supportive guidance of an experienced shaper, you will go through the step-by-step process of transforming a foam blank into a surfboard you can ride! Classes includes an orientation to the shaping and sanding bays, demonstrations on how to safely and effectively use the tools and materials, and instruction on key design elements that are essential for crafting a board you are stoked on. Absolute beginners to more advanced shapers are welcome to participate in this hands-on program and make the most of the expertise of our shaper-instructors and of our amazing shaping facility equipped with all the tools and materials you need. Shaping bay access is available for former or advanced students to work independently.
Craft Center Surfboard Shaping Event
A live webinar and virtual tour of the surfboard shaping studio with a panel of acclaimed local surfboard shapers.
Surfboards
Policies For All Users
Safety Requirements
Immediately report any injuries to CC Staff
N-95 dust masks will be provided and are required at all times when in the shaping rooms
Safety glasses and ear plugs will be provided and are required at all times when using power tools
Closed toed shoes are required in the studio at all times
Wear close fitting clothes and tie back long hair to prevent injury from entanglement with tools
Do not wear jewelry that can catch on tools or scratch the foam blank
Do not use power tools, hand tools, or compressed air until instructed on safe handling by Craft Center Staff
Operational Requirements
Studio occupancy shall not exceed room capacity as posted
Immediately report any safety hazards to CC Staff
Immediately report any broken or missing tools to CC Staff
Studio users are required to clean up the room at the end of each session per CC Staff instructions