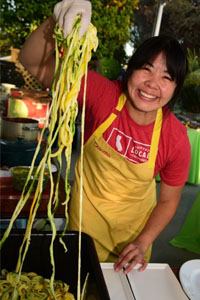 What We Offer
Policies For All Users
What We Offer

Meet the Culinary Studio Artists

Sink your teeth into a variety of food preparation techniques and learn from experienced culinary artists how to make the most of fresh fruits and vegetables, ferment produce for pickled treats or tasty beverages or how to bake mouth-watering desserts and decorate them so they are stunning!
Policies For All Users
To maintain a safe work environment, studio occupancy will be limited to room capacity or less.
The kitchen is not dairy-free, nut-free, nor egg-free because it is used by multiple cooks.
Pets are not allowed in the studio.
Gloves must be worn during all phases of food preparation.
All food scraps must be properly bagged and placed in an exterior dumpster.
The kitchen must be left clean.