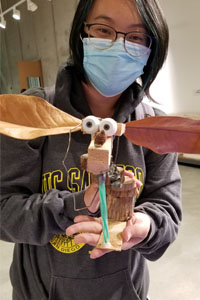 What We Offer
Policies For All Users
What We Offer

Meet the Mixed Media Studio Artists

Explore a rich variety of craft methods and media through workshops and classes that include everything from macrame, printmaking (block print and silkscreen), book design, mosaics, collage and decoupage! We'll also offer classes and shorter workshops in soap making, candle making and more! Offerings change regularly so there's always something new for you to try out!
Paperheart Baskets
Policies For All Users
To maintain a safe work environment, studio occupancy will be limited to room capacity.
Can be used to work on painting, drawing, screen printing, bookmaking, and textile art.
Can be rented for any special events, including weddings, celebrations, and conferences.
Food and beverages are permitted as a part of event packages.
Artwork and supplies may not be left in the studio.
After each event, the room must be cleaned and returned to the original configuration.