Craft Center Mobile App
Download our mobile app today and get access to the UC San Diego Craft Center. The UC San Diego Craft Center welcomes everyone to a community of talented and aspiring artists where students can learn new skills and free their imaginations to explore new areas of creativity.
With our app you will:
View schedules for classes, workshops, events, exhibits, craft sales, demos and more from the UC San Diego Craft Center.
Add events to your personal calendar and set reminders to alert you of an upcoming activity.
Join our growing social media community on all of our platforms @UCSDCraftCenter, and be a part of the conversation.
Access usage counts, and plan your visit to the Craft Center while avoiding wait times for facilities and equipment.
Learn more about our activities, registrations, hours, contact information, and directions.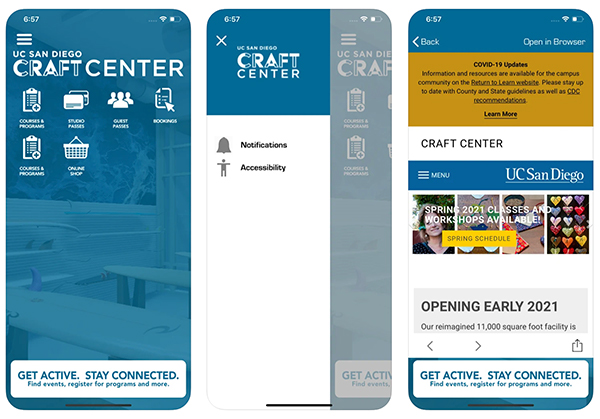 Where to download: