Contact Us
(858) 246-4536
(858) 246-4537
Hours of Operation
| | |
| --- | --- |
| Monday - Thursday | 12:00pm – 10:00pm |
| Saturday | 10:00am – 6:00pm |
| Sunday | 12:00pm – 6:00pm |
| Friday | Closed |
Mailing Address
UC San Diego Craft Center
Mosaic Building
9605 Scholar's Drive North, Mail Code 0180
La Jolla, CA 92093
Location
6th College
Mosaic Building
2nd floor
Directions
The Craft Center is located on the second floor of Mosaic Building on the 6th College UC San Diego campus.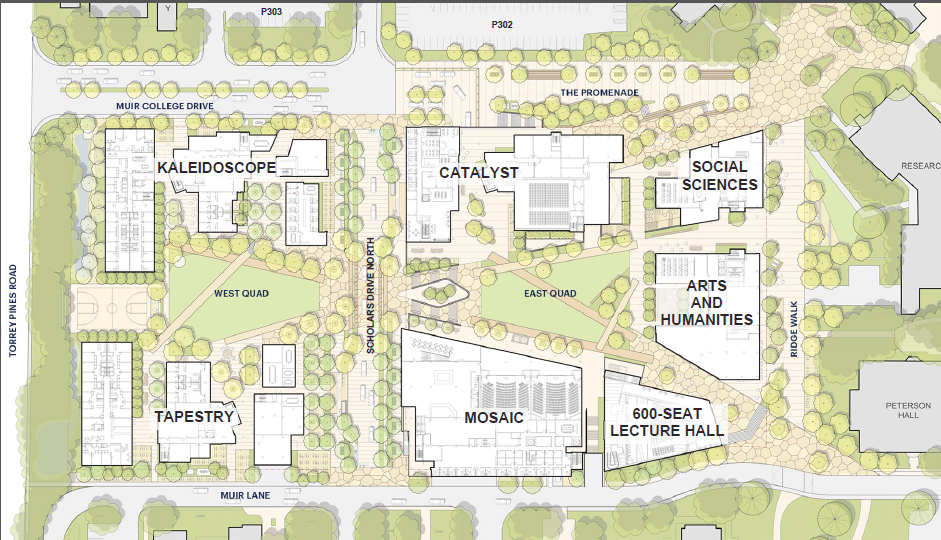 From North on Interstate 5
Take exit 29 onto Genesee Avenue
Turn right at the end of the off ramp
Use the left two lanes to turn left onto N Torrey Pines Road
Turn left at the light to Pangea Drive
Turn right onto Scholars Drive North
Turn left onto Muir Lane
Turn left into the parking structure on on your left
Take evelator to the second floor
From South on Interstate 5
Take exit 28B onto La Jolla Village Drive
Use the left two lanes to turn onto La Jolla Village Drive
Continue onto N Torrey Pines Road
Turn right onto Revelle Collage Drive
Immediately turn left on Scholars Drive South
Scholars Drive South turns right into Muir Lane
Continue straight to the parking structure on the left-hand side passing the Scholars Drive North
Take elevator to the second floor
Parking and Parking Rules
The UCSD students, faculty and staff should use their parking permits and follow the UCSD parking rules and instructions.

Visitor parking is available at the new Scholars Parking Structure at North Torrey Pines Living and Learning Neighborhood. Visitors who visit the Craft Center on a weekday between 7:00 a.m. and 5:00 p.m. will need to either purchase hourly or daily parking at parking pay stations or on their mobile device.
Parking Rates for Visitors
Weekdays
Before 5 p.m. – $3/hour
After 5 p.m. – $1.50/hour
$30 daily maximum
Weekends
First hour free via app or pay station
$1.50/hour
$6 daily maximum
Pay Stations
Pay stations sell Visitor (V) permits. Pay stations do not dispense change. Pay with any combination of the following:
Visa, MasterCard or American Express
Pay by App — Pay for and extend parking sessions 
A properly dated V pay station permit provides visitor parking in these spaces:
V: 24 hours daily
D: 24 hours daily
If you have concerns or suggestions on how we can make programming more accessible, please contact the Craft Center team at craftcenter@ucsd.edu or by phone (858) 246-4537.