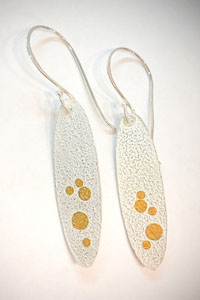 What We Offer
For All Users
What We Offer

Meet the Jewelry Studio Artists

Our unique program in jewelry design and fabrication maximizes an exceptionally well-equipped jewelry studio to appeal to the beginning student as well as to the professional jeweler. Our program enables beginners with no previous hand tool experience to design and create original professional-quality jewelry in silver or gold, as well as in non-precious metals. Additionally, it offers opportunities for more advanced students to learn new techniques and explore different materials from instructors with diverse professional backgrounds. Classes and workshops focus on basic fabrication, wire jewelry, mold making, and electro-plating as well as lost cast waxing. Studio access is available for former or advanced students to work independently.

Our Jewelry studio can only accommodate small scale work in silver, copper and brass). We do not have a forge, smelter, mold making capabilities or facilities to accommodate large scale metal work.
For All Users
Jewelry
Only currently enrolled students are allowed in class or open studio.
Report any mechanical issues or trouble to the Studio Coordinator or Front desk staff.
Safety goggles must be worn at all times when operating the torch or machinery.
Closed-toe shoes (no plastic shoes or sandals) must be worn at all times in the jewelry studio.
Long hair must be pulled back into a ponytail or bun in the studio at all times. Loose hair can be caught in machinery or burned by the torch.
Long Pants must be worn at all times in the jewelry studio. Hot or sharp metal can cut or burn bare legs. No skirts, dresses, or shorts.
Flux and pickle are caustic. Avoid getting it on the skin, clothes, or on the surrounding area.
Use disposable gloves when using chemicals such as acetone, denatured alcohol, or silver antiquing solution.
Only use copper tongs when placing jewelry pieces in the pickle. NO Steel!!
Do not cut with the jeweler's saw directly on the mandrels.
Do not re-shape rubber wheels with jewelry files! Only use the Diamond T Bar Dresser.
Avoid using the torches without an instructor or Teaching Assistant present in the studio.
Always dry your metal pieces completely using a paper towel or rag before using any of the steel tools! This includes mandrels, the rolling mill, pliers, files, saws, etc. Wet metal will rust steel tools.
When pouring ingots or casting metal, always wear a full-face shield and a leather apron.
Do not quench the ingot molds in water! Any residual water in the molds will cause molten metal to explode out when it comes in contact with water. Use leather gloves to unclamp or clamp hot ingot molds.
Do not hammer directly onto anvils, steel blocks or mandrels! No steel on steel contact! This will distort the surface of the steel tools making them less accurate for forming.
The steamer is a potentially dangerous piece of equipment and can cause severe burns when used improperly! Always use a plastic sieve, plastic-coated steel tongs and eye protection when cleaning jewelry with the steamer! Keep hands away from the steam!
All students must clean up after themselves by removing all work from the pickle, wiping work areas, the sink, and returning the jewelry toolbox and any tools to the instructor. Start cleaning 15 minutes prior to the end of class time.
All loose flowing clothing or dangly jewelry must be kept away from machinery or torches.
Return all chemicals to the flammable cabinet.
Do not store or consume food within the jewelry studio.
It is advised to use ear protection such as ear plugs or noise canceling earmuffs when hammering.
Glass
To maintain a safe work environment, studio occupancy will be limited to room capacity or less.
Eye protection must always be worn in the studio when you are cutting glass, grinding glass, or soldering.
Closed-toed sneakers or shoes are required. Sandals, flip flops, high heels are not allowed.
Long hair must be tied back when working with equipment.
Long pants and clothing made of cotton or other natural fabric are recommended.