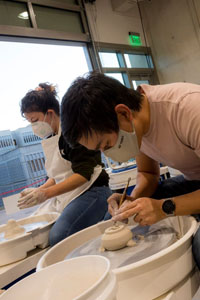 What We Offer
Policies For All Users
Policies For Kiln Users
What We Offer

Meet the Ceramics Studio Artists

Develop your creativity through the exploration of clay! We offer a range of classes to assist beginning to advanced students in developing skills, practicing new methods and techniques in pottery, and nurturing creativity and mastery. Our experienced and supportive instructors will help you become better acquainted with the working properties of clay, offering individualized guidance to develop techniques for hand building, throwing, and glazing. Available in our spacious ceramics studio are stoneware and porcelain clays, pottery tool kits, slab roller, pugmill, extruders, 20 wheels, electric bisque kilns, and two high fire (cone 10) kilns. Studio access is available for former or advanced students.
Policies For All Users
Orientation
Orientation is required for all new and returning members who are not registered in a pottery class. Orientations are good for one academic year with continuous membership.
Policies For All Users
To maintain a safe work environment, studio occupancy will be limited to room capacity or less.
All clay must be purchased from the Craft Center.
Report any mechanical issues or trouble to the Studio Coordinator or the Front Desk personnel.
All work pieces must be signed and dated with quarter and year (e.g. F21). The Craft Center reserves the right to dispose of work that is not signed and dated.
Space is limited; please finish work in a timely manner.
If classes are in the wheel area, do not use this space.
Use of the hand building area during a wheel throwing class is allowed, but do not interrupt the instructor by using a wheel area during their class.
Slops, flops, clay scraps, and trimmings should be disposed of in the slops' buckets. As much as possible, avoid getting clay into the sink.
Wheels and work areas must be left cleared and available for use by all. Work in progress must be stowed in the designated areas.
Students are responsible for placing their work on the appropriate rack for each stage in the process. Fully dried ware should be placed only on the Dry Greenware shelves.
Glazed ware with glaze on the bottom or too thick or peeling glaze will not be fired. Students are responsible for checking the Glaze Reject shelf and correcting any problems.
If a member wants to use the low fire glazes, please see the Studio Coordinator about potential additional costs and instructions on use before glazing.
The Craft Center reserves the right to dispose of work that appears to be abandoned at the end of each quarter: untrimmed ware in the damp room as well as bisqueware, glaze rejects and finished ware from the preceding quarter.
Members must clean up after themselves, by cleaning all tools, cleaning and putting the wheel back together, turning the wheel off after use, wiping work areas including the floor area if applicable, the sink and glaze area, and returning tools to the instructor.
Please begin cleaning up before the Craft Center closes. Start cleaning up by or before 9:45 pm on weekdays and 4:45 pm on weekends to assure my clean- up will be fully finished by closing.
We will do our best to handle student work with care, but accidents will happen. The Craft Center cannot be responsible for loss, damage, breakage, or theft of ware.
The Craft Center will fire the work of current students, studio members, and Instructors ONLY – we do not fire outside work. Exception: students/studio members whose work remains unbisqued at the end of one quarter may return to glaze it the following quarter without signing up for an additional class.
Policies For Kiln Users
Policies For Kiln Users
No members allowed in the kiln room without a staff member.
Studio members who wish to load and fire any kiln must first take the Kiln Firing workshop and pass a safety test.
A studio member planning to use a kiln must:

Sign up for the kiln calendar with their name and phone number. Instructors/studio employees firing class loads may take priority.
Load at least 2/3 of the kiln with general student work.
Take responsibility (be present or arrange for another trained person to be present) for the firing from beginning to end, including candling, cracking, and unloading.

Kiln firers are responsible for making sure that all furniture is cleaned and properly put away after use.
The Envirovent system must be used for all electric firings
No kiln may be reprogrammed without express permission from the Studio Coordinator.